---
In this tutorial, we will teach you how to set up a WooCommerce + WordPress online store where you can list and sell physical products.
WooCommerce is a free add-on that is simple and straightforward. In a sentence, WooCommerce is the best way to turn a WordPress website into a fully functional ecommerce store.
Technically, WooCommerce is a WordPress plugin. In order for it to work, it needs to be installed and activated like any other add-on.
It's free and open-source – just like WordPress. You don't need any licenses, things don't expire and no one comes to ask for money at any time.
It is most popular ecommerce WordPress plugin out there.
That is possible) the richest features addition of its kind.
You can set it up and configure it yourself.
setup is fast, Usually it's just a matter of the afternoon.
Works with any design / theme you currently have on your WordPress website – you don't have to throw away your current website design.
We could go on with the list above, but instead, let's just say that WooCommerce simply gives you everything you could ever need to build a high-quality e-commerce store with WordPress.
What can you sell with WordPress + WooCommerce?
digital products (e.g., software, downloads, e-books),
physical products,
services,
reservations (e.g., for meetings or anything else that can be booked),
subscription,
other people's products – as an affiliate,
customizations (e.g., additional customizations at the top of your product list) and more.
In other words – you can make money from your website.
We would even risk WooCommerce allowing you to sell something which can assign him a price. On top of that, anyone can use it (if you've already managed to run a WordPress site, you'll also be able to manage WooCommerce).
How to Build an Online Store with WordPress and WooCommerce
Note: The goal of this part of the guide is to show you the simplest method to build a functional e-commerce store on WordPress to get an online store as soon as possible. So let's just focus on the essentials and skip the more advanced aspects.
STEP 1. Get a domain name and web hosting
To create an online store or any other type of site, you will need two things:
Domain name is the unique address of your web store. Something like YOURSTORE.com
Web hosting it is basically a remote computer that stores your website and then serves it to anyone who wants to visit it. (more detailed explanation)
Full disclosure: We earn a commission whenever you finish buying Bluehost. This helps us launch WebSetup as a business. Thank you for your support.
There are hundreds of different hosting providers / domains, and we usually get both from Bluehost.com. They offer affordable web hosting (including one year domain name for free) and reliability. They are also one of the few recommended WordPress.org service providers.
Charge? Starting at $ 2.75 per month! 🙂
For Bluehost alternatives, check it out Top 10 WordPress Hosts.
For starters, you just need to go to Bluehost.comand click the "get started" button.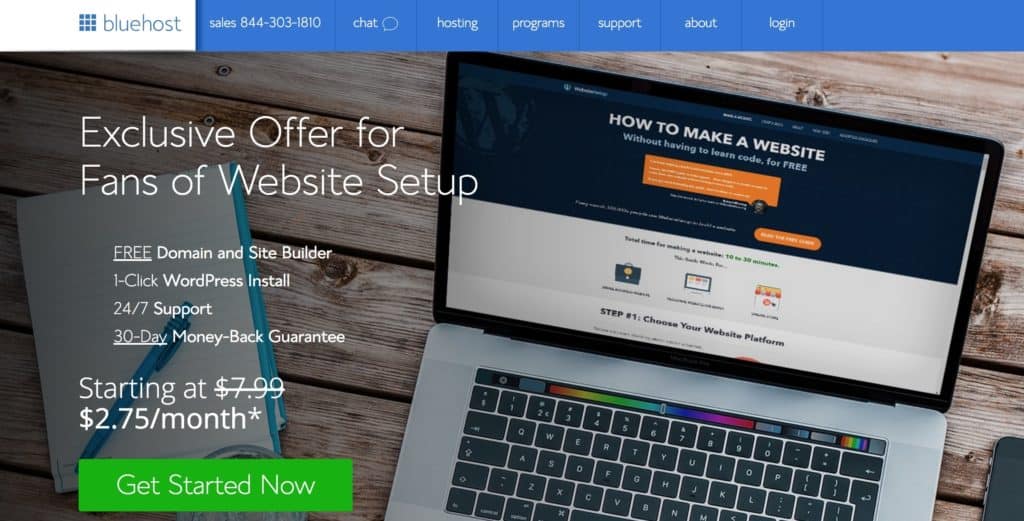 This will take you to a page where you can choose a hosting plan for your store. You can start with the cheapest option, labeled "basic":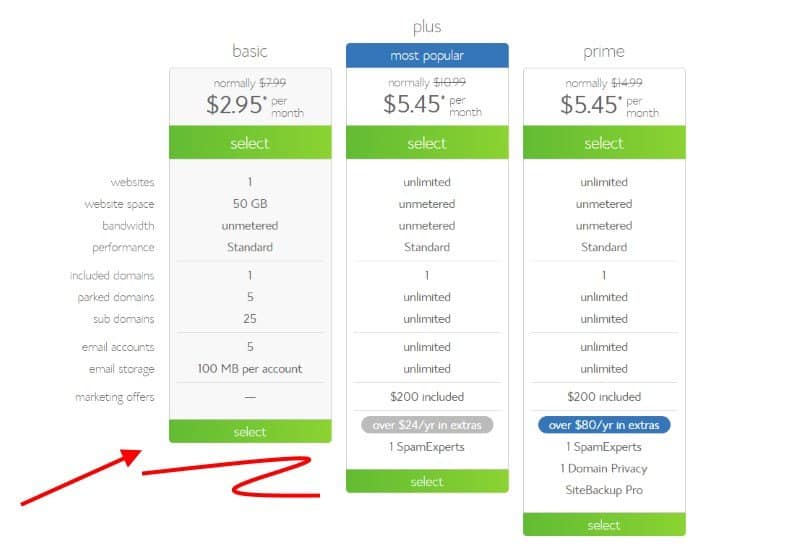 The next step is to select a domain name for your new online store.

This requires some brainstorming. You want to generally want your domain name unique. easy to remember and attractive, If you already have a business entity set up for your store, you might want to use it as your domain name.
Once you have selected a domain, you can complete the setup and pay the initial hosting fee.
Great! You just got a domain name and a hosting plan to fill out with it.
STEP 2. Install WordPress (FREE)
The next step officially marks the beginning of your WordPress adventure – you will install WordPress on your hosting account.
That may sound hard, but it really isn't. All you have to do is go to your Bluehost user panel (Bluehost will send you a link in a confirmation email) – usually available at my.bluehost.com.
When you scroll there, scroll down until you see an icon labeled "Install WordPress":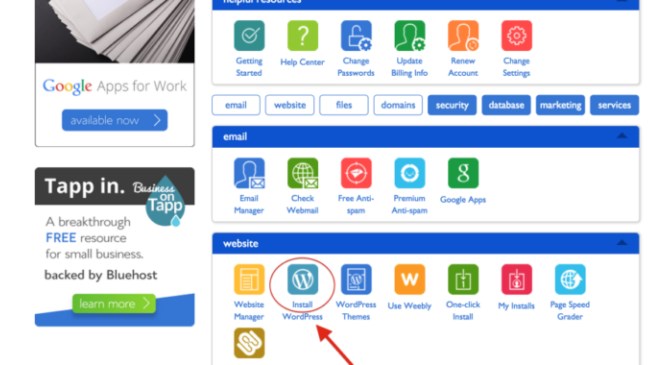 Click on it and follow the on-screen instructions. You will be guided through the entire process step by step, there is nothing to worry about!
If you need more information on choosing a domain and installing a clean copy of WordPress, go ahead and visit this guide (scroll to steps 2).
You should have a blank WordPress site installed at this point.
You can see it by opening your primary domain name (e.g., YOURSTORE.com)
You can log in to the admin panel by going to YOURSTORE.com/wp-admin
Now it's time to turn this empty WordPress website into a fully functional ecommerce store using the great WooCommerce plugin.
STEP 3. Install the WooCommerce Plugin (FREE)
As with all WordPress plugins, the fun begins with navigating to yours WordPress Dashboard / Add-ons / Add New, When you're there, type "woocommerce" in the search box. You'll see WooCommerce as your first search result: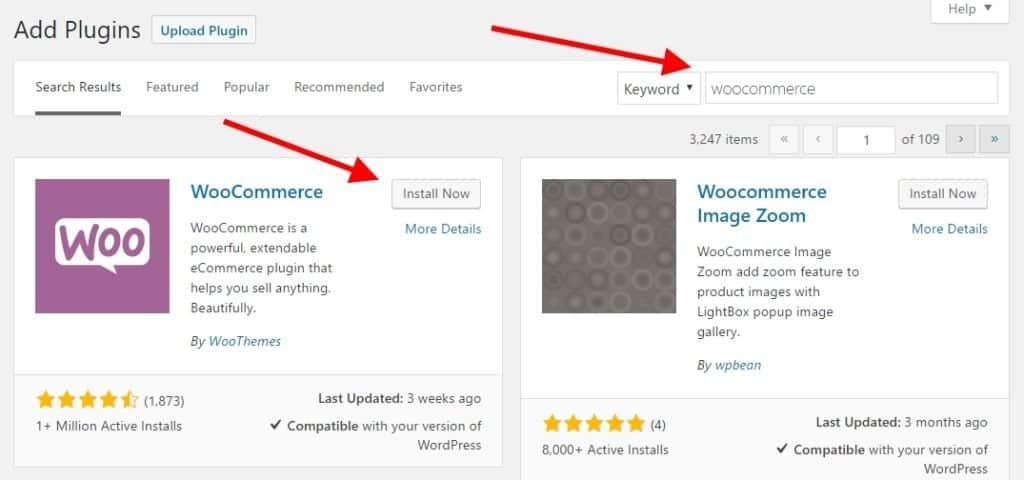 Just click the "Install Now" button next to the add-on.
After a few seconds, the text on the button will change to "Activate". Go ahead and click on it.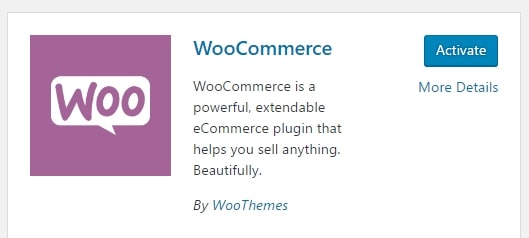 At this stage you will see the WooCommerce Launch / Setup Wizard on screen. This thing makes the process uber-easy and takes you through your hand through everything. To begin, click "Let's go!"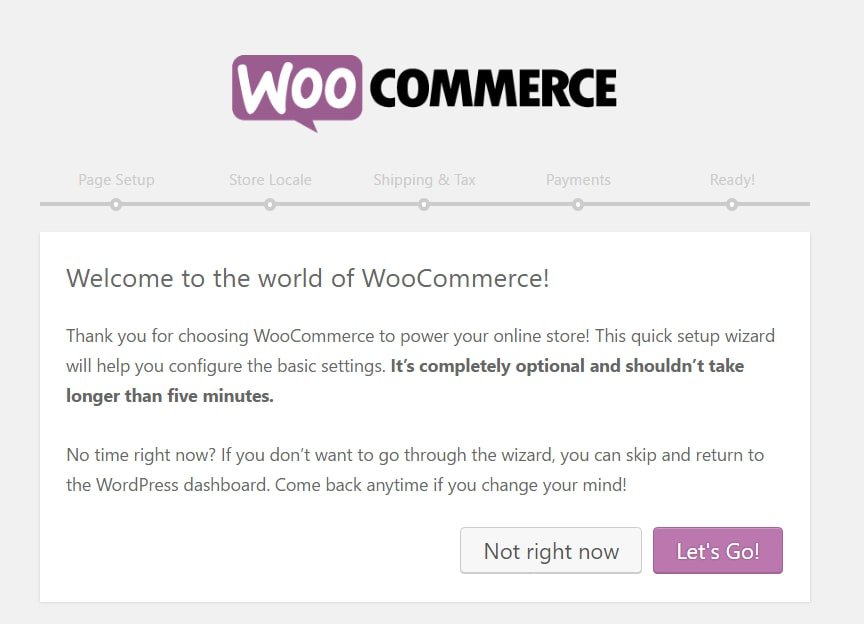 Create Essential Store pages
Online stores are especially type of website and need some especially pages to function properly. The first step in the WooCommerce Wizard is to create these pages for you:
"The market" – your products will be displayed here.
"Shopping Cart" – this is a shopping cart where your customers can customize their order before they check out.
"Check" – this is where buyers choose the shipping / shipping method and pay for everything they bought.
"My Account" – a sort of profile page for registered buyers (they will be able to view their pre-orders there and manage other details).
All you have to do at this stage of the WooCommerce Wizard is to click the "Continue" button. WooCommerce will set up these pages for you.
Setting up Locale
A local box is truly a key part of your store setup. These few parameters define your origin, currency, and desired business units: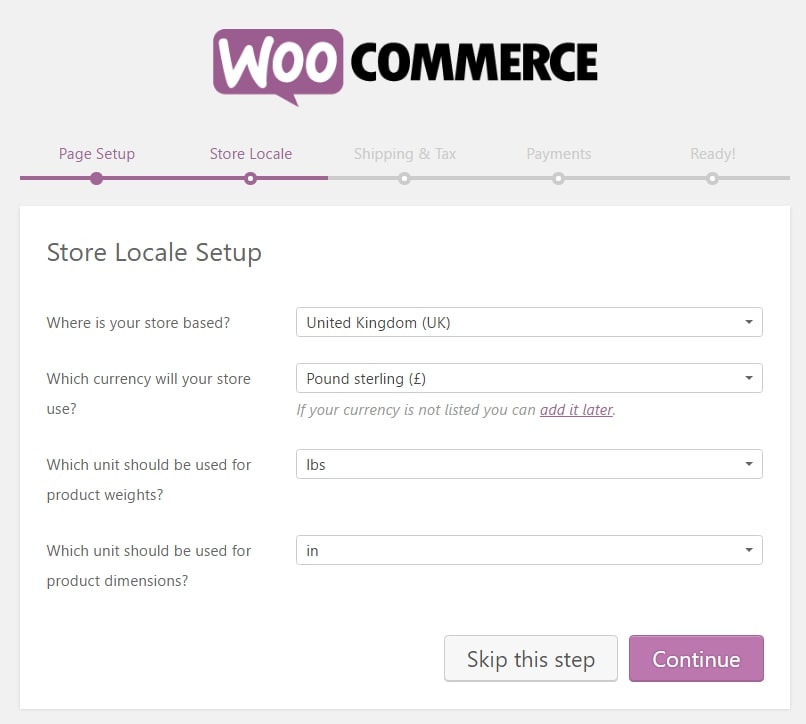 Click "Continue" when you're done.
Understand sales tax
Tax is the least exciting part of running an ecommerce store, but unfortunately it's also something we can't ignore.
You will be glad when WooCommerce helps you in this section as well.
First, you can choose whether or not to supply physical goods. If you check the box, WooCommerce will preset the remaining shipping details in the settings.

Next, tax! WooCommerce has a very neat tax module, the best thing about it is that it helps you determine your in-store tax rates, which you set up in the previous step.
If you want to charge sales tax (in most cases, you are), just check the main tax box. As soon as you do, a new set of frames will pop up to let you know what happens next.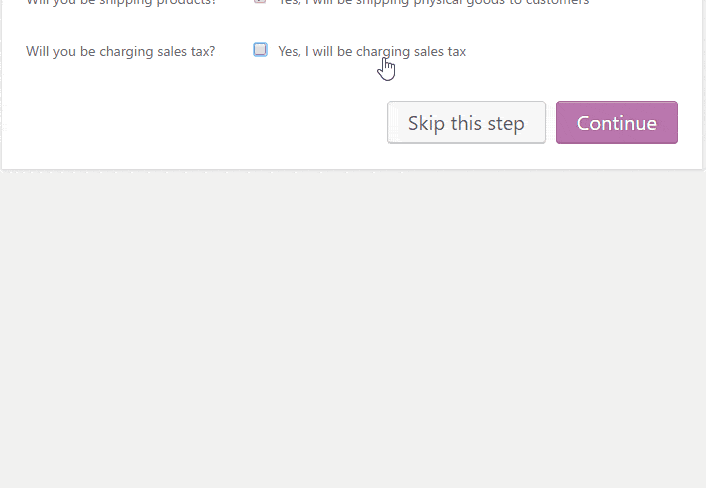 Note: Although WooCommerce will pre-fill your tax settings for you, you still need to double-check with your local authorities what the current current tax rules are, especially if you are not in the US. To learn more about how to manage WooCommerce sales tax, read this. You can change everything later, so don't worry if you're not sure about the rules right now.
Click "Continue".
Choose your payment method (PayPal recommended)
The ability to accept payments online is the cornerstone of any ecommerce store, WooCommerce really offers a great deal in terms of available solutions.
Here's what to choose: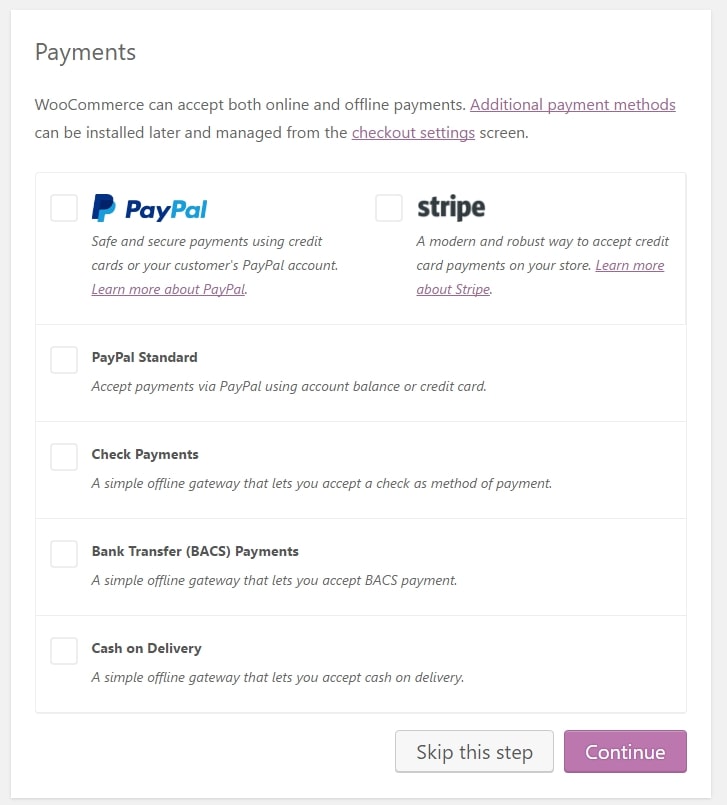 The two most popular payment options are at the very top – PayPal and Stripe – it is strongly recommended that you integrate your site on both sides. Just click on their respective checkboxes.
You can also choose other payment methods that seem to make sense. Later, more options will be available in the WooCommerce settings panel.
Note: To make an online payment, you must sign up separately through PayPal or Stripe. The settings at WooCommerce are just for integrating your existing PayPal accounts and Stripe accounts with your new ecommerce website.
Click "Continue" again when you're done.
The next step is just a screen to confirm that everything went well. At this stage the basic setup of the site is complete – you just built an empty e-commerce store with WooCommerce!
The next step is to add the product:
STEP 4. Add your first product
To be able to call a store operational, you need some products in the database (or services or downloads or whatever you want to sell).
To get started with the products, then go to your dashboard Products / Add Product: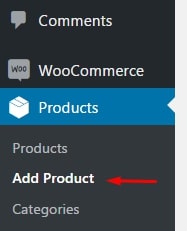 What you'll see is a classic WordPress content editing screen: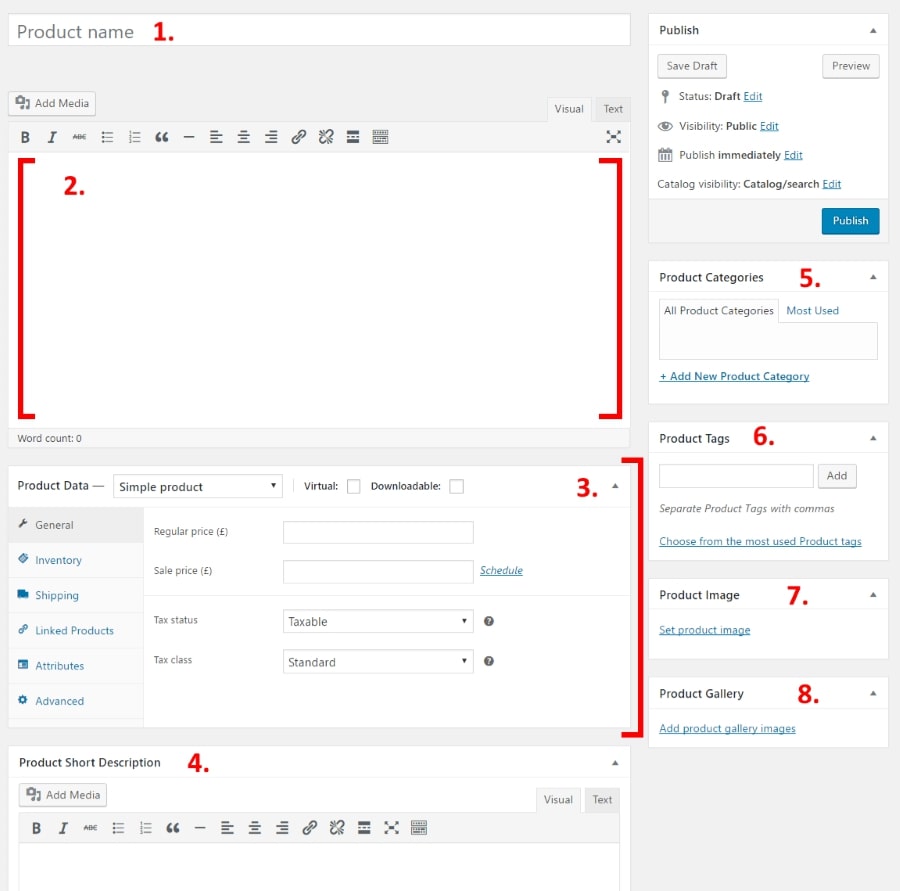 Name of the product.
Main product description, This large field allows you to enter as much product information as you want. Since this is WordPress, you can put not only simple text there, but also images, columns, headings, even videos and other media. Basically, whatever you see fit!
Central the product information section, This is where you place the type of product you are adding and whether it is physical, a

download or a

virtual product (services are also considered virtual products). As part of this centerpiece, there are also cards for various product parameters:

Overview, You can set prices and taxes here.
Inventory, WooCommerce lets you manage your inventory levels.
delivery, Adjust the weight, dimensions and shipping costs.
Related Products, Great for setting up outlets, cross-selling, etc. (Think, "Customers who bought this one also bought that".)
features, Setting Custom Product Attributes. For example, if you sell T-shirts, you can post alternative colors here.
Advanced, Advanced settings. It does not matter.

Short description, This is the text that is displayed under the product name. It works best as a brief summary of what the product is.
Product Categories, Group similar products together. For example, "hats". It works like standard WordPress categories.
Product labels, An additional way to help you organize your product base. It works just like standard WordPress tags.
Product image, Product main image.
Product Gallery, Additional product images that show their fantastic.
When you first visit this panel, WooCommerce will provide some useful tips for explaining the purpose of each field: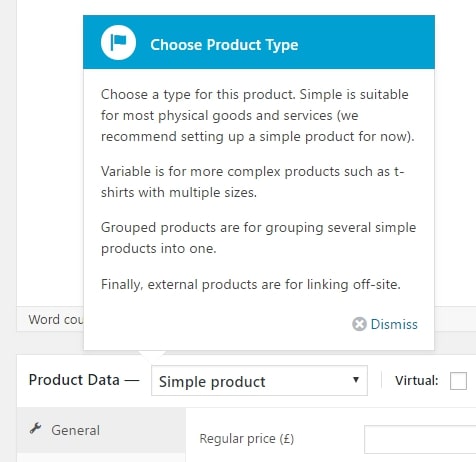 After you have set all of the above, click on the big Publish button – your first product has just been added!
After adding a handful of merchandise to your database, the products section of your dashboard should look like this: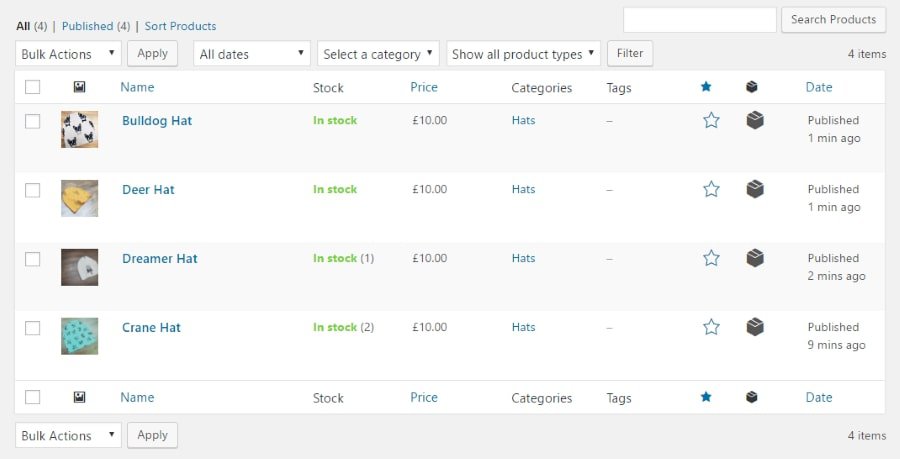 STEP 5. Choose a Theme for Your Online Store (FREE)
There is a very good reason why we first explained how to add products to your store, before discussing the visual appearance of the whole thing.
Honestly, without any products in the database, you wouldn't be able to see individual store pages in any representative format. You would not be able to make sure everything looks good.
Now that you've added most of your products, we can rest assured that things are fine from a purely visual standpoint.
WooCommerce vs Your Current Topic
WooCommerce works with any WordPress theme by default. This is great news, especially if you have already chosen your design and want to stick with it.
Alternatively, you can run special themes optimized for WooCommerce. These themes come with preset styles that make all elements of WooCommerce look great.
Here is our recommendation:

The official WooCommerce theme – the one most likely to work properly – is called Storefront. The default version is free and should be enough to get you going.

Alternatively, you can visit the ecommerce section at ThemeForest – the largest directory of premium WordPress themes on the web.

Whether you decide to stick with the current theme or are embarking on something new and optimized for WooCommerce, what you need to do is make sure the individual store pages look good. Let's do it now:
E-commerce store design rules
Let's talk about a few important aspects before we get into purulent honey.
Mostly – What Is Ecommerce Store Design Good (Read: Profitable)? Here are the most important parameters:
Design should be clear and in no way confused. A confused visitor will not buy anything.
Central Content Block should attract the attention of visitors as soon as they come to the site. This center block will show products.
Adjustable sidebars You need to be able to choose how many sidebars you need, and you can also disable the sidebar for some pages (more on that later).
Responsive and mobile optimized. The research shows [2] that about 80% of people on the internet own a smartphone. According to another survey [3], 61% of your mobile phone visitors will immediately go and visit their competitors if they have a frustrating mobile browsing experience. In other words, it is crucial to ensure the optimization of your mobile website.
Good navigation structure, You want clear menus that are easy to understand – so visitors can find the page they're looking for.
With this in mind, here's what you can do with individual store pages:
Your store page
Here is the main list of your products. If you went through the WooCommerce Setup Wizard, you can find this page at YOURDOMAIN.com/shop
This is a standard WordPress site – you can edit it via WordPress Dashboard / Pages.
What is worth doing:
Add a copy that will encourage your visitors to shop with you.
Decide if you want to have a sidebar on the page. This is accomplished through a template of your own topic page. For example, Storefront allows me to go full width, which is what we will do: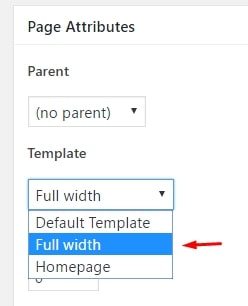 The main feature of the Store page is that just below the standard content, it is the custom section where it displays listings of your products. This is what Storefront looks like: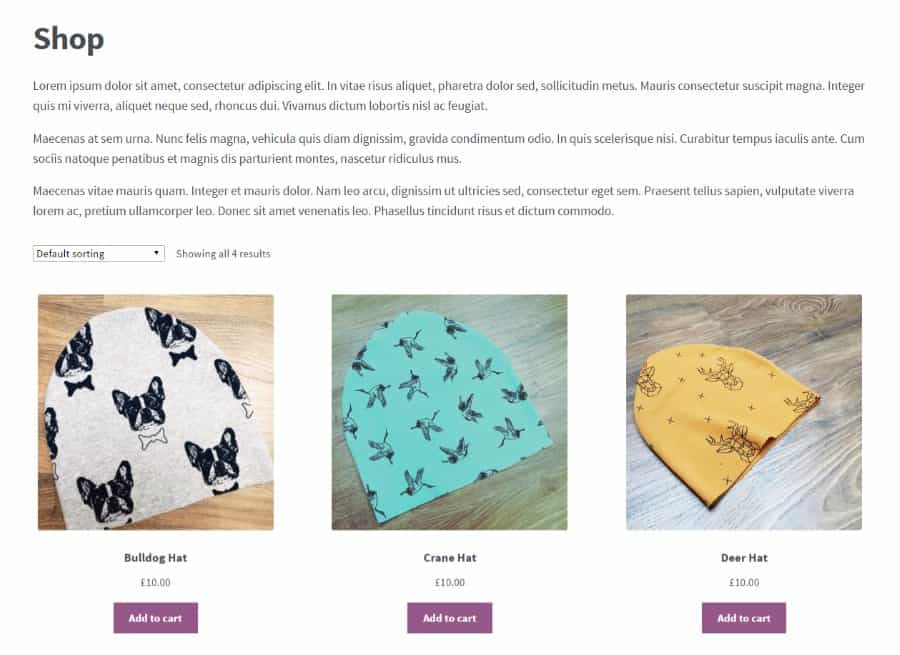 As you can see, beautiful product images are key, this is the first thing you should correct! In other words – you should probably do more work on product images than on anything else.
WooCommerce also allows you to view products alternatively on this page. When you go to dashboard WordPress / WooCommerce / Settings / Products and then it is Display section: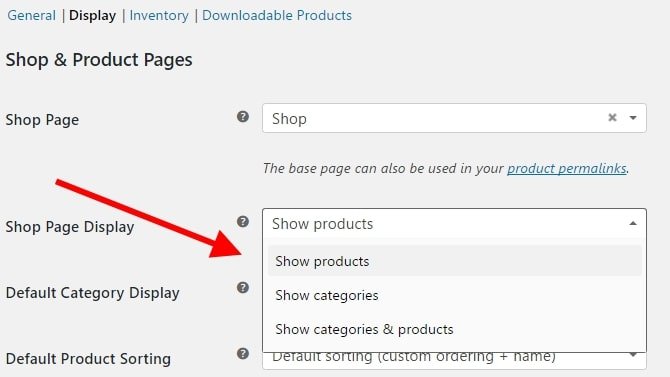 … You can choose whether to display individual products or product categories on the Stores page. Choose what makes the most sense to you, then save your settings.
Individual product pages
To see them, click on any product list from the Stores page.
If you use a quality theme, you should have no problems on that particular page. Basically, the only thing you can do is adjust the amount of text you use for individual product descriptions to ensure that everything fits in visually and that there are no blank spots that can confuse the customer.
Here's an example with the Storefront theme (no additional customizations):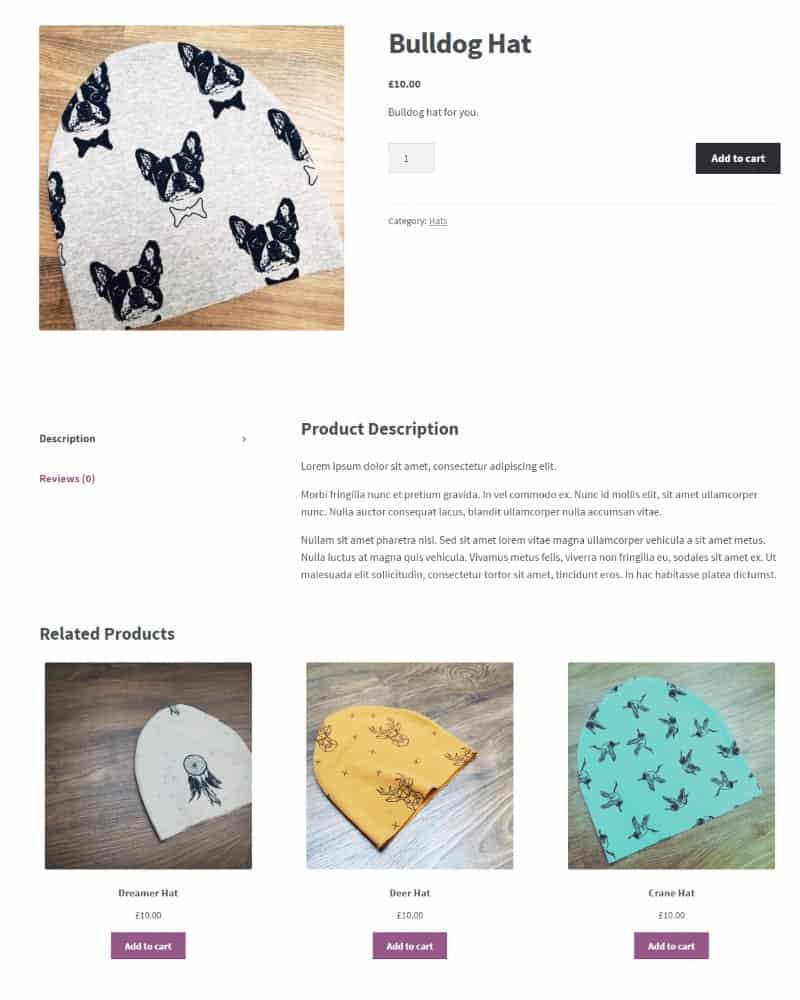 basket
Another customizable page Dashboard / pages.
The only thing we would recommend is joining a full-width schedule. You don't want to give the buyer too many options on this page except you can unsubscribe.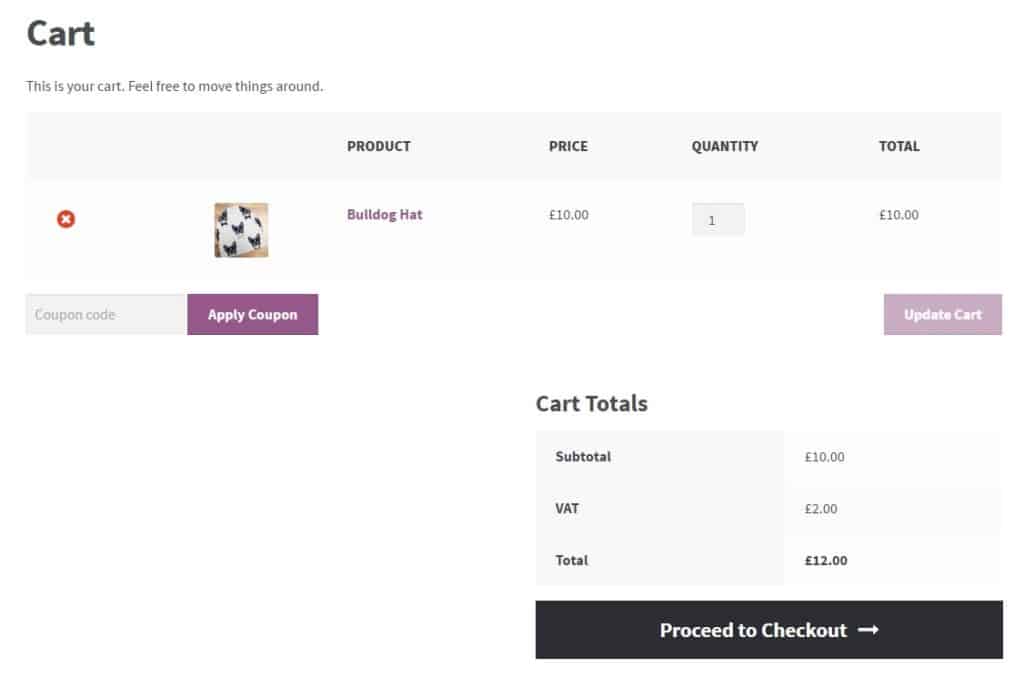 Check
Checkout is perhaps the most important page of them all. This is where your customers can complete their orders and make payments.
We don't really encourage you to do any reviews on that site except one:
The billing page absolutely needs to be full width. The only acceptable buyer exit from the site should be to finalize your order and not be distracted by the things available on the sidebar.
You can do this through Dashboard / pages (just repeat the process through the store page).
Plus, the great look and feel of the Checkout page is: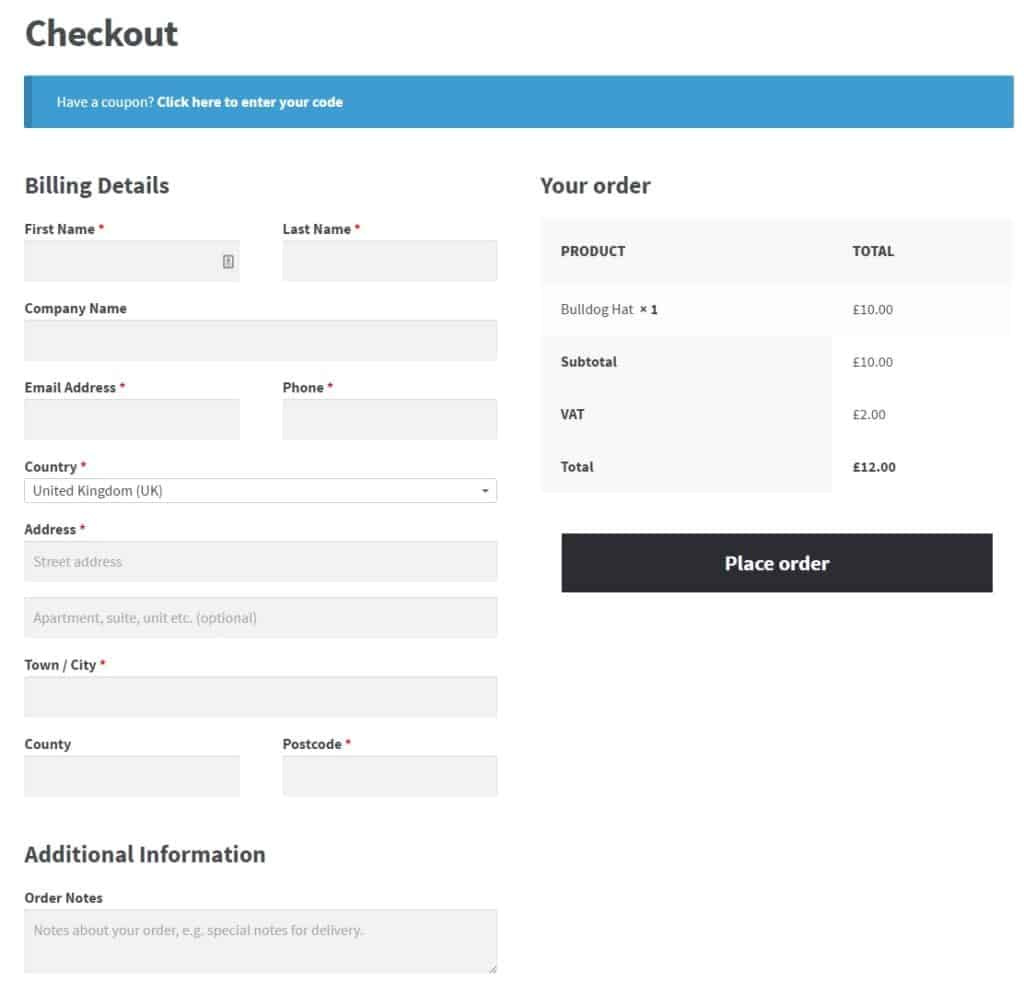 At this stage, the design of your store is mostly customized, and now let's consider options for extending the functionality of the store.
STEP 6. WooCommerce Extension – How?
Another thing that makes WooCommerce such an impressive ecommerce solution is that dozens or even hundreds of extensions and add-ons are available.
Here are some of the most useful:
WooCommerce Extensions
Let's start with extensions – official add-ons approved by the WooCommerce team.
Go to this page to see what's available.
The catalog is really impressive and huge. We don't want it to scare you. You certainly don't need all these extensions. Treat this list like a buffet – choose what feels cool.
Some of the more valuable mentions are:
Gateway payments. These extensions allow you to accept multiple payment methods above regular PayPal. Generally, the more payment methods you can afford to accept (these approaches are often paid for), the better.
Shipping extensions. This will be useful if you want to automatically integrate your store with official shipping rates from companies like UPS or FedEx.
Accounting Extensions. Integrate your WooCommerce store with the accounting tool of your choice.
WooCommerce reservations. Allow customers to book appointments for services without leaving your website.
WooCommerce Subscriptions. Allow customers to subscribe to your products or services and pay a weekly, monthly or annual fee.
EU VAT Number. For those doing business in the EU.
TaxJar. Put your autopilot sales tax on.
On the other hand, if you don't want to spend money on new extensions, you can browse the free category. There are more than enough things out there to keep you occupied.
Add-ons that complement your ecommerce store
If you add extensions, you can use other WordPress plugins to refill your store. Here's what you should get:
Creating an online store in the queue
As you can see, the degree of difficulty in creating your own e-commerce store using WordPress is not high, but it will still take you a while to go through all the steps above – probably in the afternoon or two.
This is still amazing considering that, say, five years ago, you would have to hire a developer and pay them north of $ 5,000 to create something similar. Now you can do everything yourself!
In any case, to help you complete all the tasks you need, Here's the opt-out and hold checklist:
Before you begin
Installing WooCommerce
Install and activate the main WooCommerce plugin.
Go through the WooCommerce Setup Wizard to make sure:

Creates four required pages (Store, shopping cart, cashier, my account).
Set up store location.
Setting Sales and Shipping Taxes.
Select initial payment methods.
goods
Add most (or all) of your products or product categories to the store.
To shape
Choose the right WordPress theme for your ecommerce store. Go either with an existing theme or view other options. Review ecommerce store design rules as you work.
Customize your store page.
Customize individual product pages.
Customize your shopping cart page.
Customize the Cashier page.
Extensions
Install the payment gateways you want to use.
Consider some shipping extensions.
Consider an accounting extension.
Browse other extensions and the free category.
Accessories
Consider installing all the add-ons that will complement your ecommerce store:
Yoast SEO
Yoast WooCommerce SEO
WooCommerce multilingual
Contact Form 7
UpdraftPlus
Social sharing button from GetSocial
MonsterInsights
iThemes Security
W3 Total cache.
Source link