Wow, what a bitter month lived in the world. So much is happening (and changing almost daily) as a result of the COVID-19 pandemic – and we hear a lot from you about how these changes affect your daily life both positively and negatively.
This led me to create a new one Blog Scholarship Program during March, which got colossal 539+ applications. Were busy creating more free resources, courses and tutorials for bloggers than ever before, and are involved in local organizations in San Francisco that support people who have been negatively affected in recent weeks. Quite a lot to unite as a world community at this time is needed.
These difficult times have once again shown me the enormous amount for which I should be grateful and that I have benefited from investing in myself over the years – creating this blog into an asset capable of providing stability in my life. Profits on the blog for March have come $ 28,387.79. Traffic increased slightly, bringing 276,369 readers and 349,885 unique sessions.
Now, given the dig in figures for March … the blog's revenue has risen slightly from the previous month, landing again well above my forecast range thanks to increased affiliate commissions from my management how to start a blog and another consecutive month of enrollment in my comprehensive blogging course, Built in blog: how to get your first 10,000 readers and make money by running six digits.
Overall, I'm generated $ 28,387.79 revenue in the blog during March 2020.
I intentionally kept small expenses for a month when we started moving indefinitely and I am now following the example of moving forward. Profits for March have come $ 23,790.02.
Forecast 🌤: In April, expecting a small drop in blog revenue with the timing of some upcoming partner company payments – expect to land in the range $ 20,000 – $ 24,000. Over the next few months, revenue is likely to rise slightly as I continue to experiment with additional traffic strategies, checking the revision of my existing content library for the possibility of updating and implementing new advocacy offerings throughout my content. April will again remain easy on spending as I work to get a more streamlined bet on everything that happens in the world and will also pay more attention to internal content updates.
Now for the details of my income statement in March …
Revenue in the blog in March 2020:

$ 28,387.79
In these monthly reports, I track my total income each month, including each source of that income, and the associated business management costs. That's good and bad.
Next, I split the traffic to my blog, which greatly affects my earnings, including a better job and how to keep driving more readers. I also cover how many e-mail subscribers come, the number of new subscribers purchased per month, and what such a growth trajectory looks like.
Finally, I cover updates on any other projects running during the month.
---
Do you want my earnings reports to be delivered directly to your inbox?
Join me today and keep sending you my weekly tips, strategies and details on profitable side growth.
---
Now, in discussing, let's do it.
Revenue section of the blog for March 2020
Gross profit
$ 28,387.79
Freelance customers and sponsorships
Cost allocation
Total costs
$ 4,597.77
Web services: hosting and storage
SmartWP & Hosting Blogger Resources
Confirmation by email DeBounce
Online tools and subscriptions
Zoom.us (video conferencing)
Travel, stationery and more
AT&T Service Plan (iPhone)
Parsing net income
Net income
$ 23,790.02
---
Now about my blog and email stats for March.
---
2. Blog statistics for March 2020:

349,885 sessions and 138,112 total email subscribers

March slightly increased traffic – especially during the last week of the month, when several key organic search rankings rose slightly above, suggesting a positive outlook for April. But still, if remaining, it's the same to change and instability permanent today 🙂
This month's very positive signal is that virtually all of my blog content and directories that have been published over the past year continue to crawl on the first page of search results for their purpose. Keyword phrases (assuming there is still great potential this year).
There was a lot of shortage with some of my most competitive search rankings, especially those related to keyword phrases came over the last few months I have received much less attention from me when it comes to blogging and helping. It's a long game … And continues to invest in the more strategic, stronger future work of my blog, focused on more lucrative content with less traffic dependence.
What's great is that my blog now encourages traffic to more articles (and sources of revenue) rather than relying on just a couple of key articles to support my business. As we continue to move this year, diversification in terms of traffic and revenue remains my two main areas.
I was in sessions from February by 3.59% as the movement began to lean back again. Pageviews have risen 464,360.
Overall, it goes compared to last year, traffic decreased by 28.09% compared to March 2019, which was one of my best months ever in terms of traffic. However, my most read posts continued to deliver traffic from organic search, and my latest content from the second half of last year also emerges in the organic search rankings. Came in a pretty positive position given my key priorities and by focusing, I increased my revenue from available traffic.
Here are my top 16 emails from March that rank in descending order, among which are most readers:
If in March there is a movement of turns in the right direction, readers of my 25,000 words, How to start a blog and make money increased quite sharply – which still ranks in the organic search on competitive terms how to start a blog,, how to blog and such.
Plus, the more readers come to this guide, the more it joins my free courseHow to create a blog in 7 days and offered the opportunity to join my comprehensive paid Built into the blog Of course, that helps them grow their diary even more.
Also in March, I published two new articles for a long form for my growing audience of bloggers:
Most of my time spent last month was spent updating and expanding my biggest, most important instructions – along with still fixing the formatting of a bunch of pages (as a side effect of my finished site upgrade).
My plan is to publish in-depth and highly accessible content for bloggers this month – and move forward into the future.
It's all with the unchanging, long-term goal of signing up for Google, which is mostly my site blogging and hopefully more readers are looking for tactical advice in blogging for a long time … but I have to keep reminding myself that this core in my content articles is a long-term investment 💪
2. Email subscribers.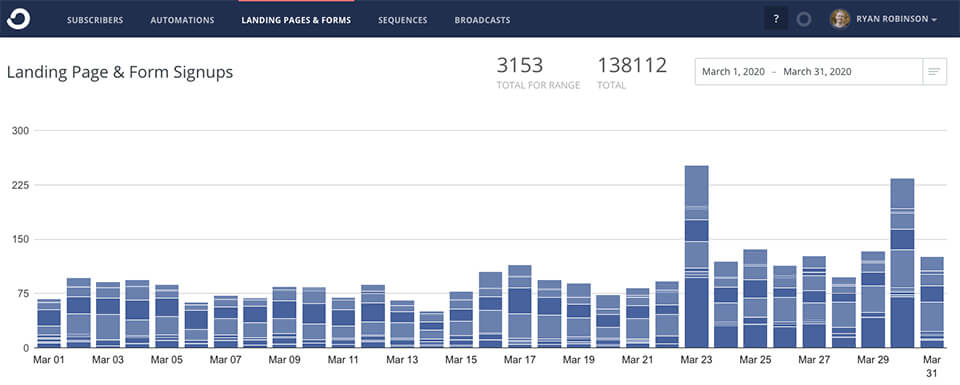 Used second-hand ConvertKit have been managing their email subscriber community and delivering emails for several years and I absolutely love the product.
February saw the addition 3153 subscribers to my community when my shared email list grows 138,112 subscribers.
This has been a positive turnaround for subscriber growth over the previous couple of months: fewer key articles are getting more traffic than they saw earlier this year (a lot of small updates to Google's algorithms are still happening now, sending me fluctuations in organic traffic).
Also, I still see the following effects of a new email subscriber checker tool that I started using called DeBounce – which only guarantees the valid, valid email addresses used to sign up for my list … improving the quality of my email subscribers and confirm that fake, spam, or questionable email addresses are not used to subscribe to my community. This tool itself has already caught (and stopped) hundreds of suspicious email addresses that were included in my list.
However, many of my new subscribers have come because of the influx of blog-related content and free downloads – which is my ultimate goal to keep the spotlight.
Much of my growth of new subscribers continues to be fueled my free course, Create a blog in 7 days that is optimized for both affiliate earnings and to get my most advanced paid course (Built into the blog).
Blow it up for my earnings report in March.
Because my focus is on creating more excellent written content (along with checking and updating my existing content library). As soon as the time comes, my goal is to bring back the show with a new focus and format to provide the most effective advice in blogging. Stay tuned!
As we told at the beginning of this report, when discussing blog revenue forecasting in April, plantings between them will decline slightly $ 20,000 – $ 24,000 as a couple of oddly timed affiliate payouts make their way to me a little slower than usual. My focus remains on publishing more in-depth blog content that pays off over the coming months (and years).
If you're looking for more reading to help grow your own blog, I'm constantly updating my ultimate guide to building and scaling a profitable blog right here that believed love for you read 😊